Barra Collapsible Aluminium Boat Trailer
The same trusted design that we have been supplying to the Australian market for over fifteen years has now undergone a review by the new RSVA national vehicle certifying body and is fully compliant with the new legislation.
The best value for money folding aluminium trailer on the market.
All BoatHoist aluminium folding boat trailers are designed and made in Australia and come with a 3 year structural warranty.
Local pick up from Coolum Beach, Qld or we can freight directly to your door.
Delivery Costs:
NSW, QLD, VIC & ACT - $280
Folding Boat Trailer Operation Video
No Speed or Distance Restrictions
Aluminium Construction that Weighs Under 40kg
With a payload of 250kg this trailer suits boats up to 3.9m long
Can be packed up into 2 travel packs for ease of storage
Or disassembled into 5 parts (heaviest part only 9.5kg)
Optional caravan mounting kit
Does not include lightboard or trailer registration.
About the BoatHoist Folding Boat Trailers:
We first started designing and building our folding aluminium boat trailers way back in 2006 and we haven't stopped. Designed specifically for the car topper and caravan market our 'Barra' folding trailer has stood the test of time and the current design is almost identical to our very first trailer.
Keep it simple and build them tough. That was the design principle and it shows.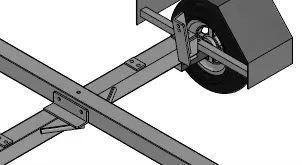 Two bolts connect the drawbar to the axle.
Two bolts connect the drawbar lap joint.
Only eight bolts to lock the trailer together and a robust lap joint on the drawbar gives you extra strength when you are towing or reversing your trailer down the boat ramp. This ridged bolt together design is why we have no speed or distance restrictions on our trailers. 110 kph down the motorway and the trailer won't sway or bounce around which gives you peace of mind when towing, and options when you get to your campground.
Our BoatHoist range of folding aluminium boat trailers will are suitable for all car topper boats including aluminium boats, plastic boats, Enlightened composite boats, Porta boats, kayaks and much more.
We supply our folding boat trailers from the factory direct to our customers so you are dealing with the manufacturer and not a salesperson. Pick up is available from our Sunshine Coast workshop or we can freight directly to your door.
Have a Question? – Contact Us
Can your folding trailer be registered?
Yes. All Folding Trailers must be built in accordance with the following Australian Standard. National Code of Practice: Vehicle Standards Bulletin 1, Revision 5 June 2009. The BoatHoist Folding Trailer is approved by the N.S.W Roads and Maritime Services, comes with a VIN number and compliance plate and can be registered in all Australian states. All you need is a trailer light board and you are right to go.
Do I need a weighbridge certificate?
No, our trailers are pre-approved so no weighbridge ticket is required.
Do the 8" wheels mean the trailer can't be towed at 100km/h?
The speed rating that you can tow your folding trailer does not depend on the tyre size. The BoatHoist folding boat trailers are fitted with 8" integral wheels that are rated to 130km/h and run standard Holden wheel bearings. The reason some manufacturers limit the tow speed of their trailers is because the poor trailer design results in their trailer getting the wobbles. The BoatHoist Folding Trailer will tow safely at 100km/h and can be towed long distances on sealed roads with no problems.
How much does your aluminium trailer weigh?
Our trailer weighs 40kg without the hand winch and 42kg with the winch fitted. Compare this to a steel folding trailer and our trailer is about half the weight.
Is aluminium strong enough?
Absolutely. Aluminum is used in all forms of craft construction from cars to aircraft to high speed trains. Your tinnie is made of aluminum – your  not worried about IT  breaking are you? The difference between steel and aluminium lies in the welding. A steel weld is just as strong as the parent metal but the strength of an aluminum weld depends on its size. The key to the success of our trailer design lies in the fact that we transfer load stresses directly from section to section using bolts, not through the weld itself thus avoiding material failure.
Why do you use bolts instead of pins on your BoatHoist Folding Trailer?
Three reasons as follows:
1) Pin connections or hinged connections can wear, particularly with aluminium as it is not as hard as steel and this will reduce the life of the trailer. The same thing applies to telescoping sections as they can get a buildup of dust and salt or the sections can get bent all of which will stop them sliding together.
2) Pinned and hinged connections have a degree of movement. It is this movement that affects how the trailer tows. As you increase speed the trailer starts to wobble, the faster you go the more the trailer wobbles. This is why some manufacturers have a speed limit on their trailer. The bolted connections on the BoatHoist Folding Trailer eliminate any joint movement so our folding aluminum trailer does not wobble and will tow safely at 100 km/h.
3) By bolting our trailers we have the option of packing the trailer into two travel packs, the drawbar and the axle assembly that can be mounted on your caravan or the trailer can be separated into up to 5 separate pieces giving you plenty of options for storage.
What size does the BoatHoist Folding Trailer pack down into?
The Drawbar pack is 2.1m long and weighs 12kg. The axle pack is 1.1m long and weighs 28kg. You can also separate our trailer into 5 separate pieces if needed.
Do you have a mounting bracket for the caravan bumper bar?
Yes we have a bracket that will fit onto a 50 x 50 or 50 x 75 RHS bumper bar and this will support the axle assembly. The drawbar assembly can be carried on the roof with your cartopper tinnie, across the rear of the caravan our it will even fit into a through boot of your caravan.  Please request this when ordering.
What size boat can your trailer take?
Our folding trailer is rated to 250kg and is 4.1metres long when assembled. It will safely carry a 3.95metre aluminum boat in saying that,  we recommend the best size for a cartopper boat should be a maximum size of 3.75metres.
What about trailer lights?
The folding trailer does not come with lights. You need to supply your own trailer light board. These are available from most boating and automotive stores across Australia and should be hung off the back of the boat when towing.
Can the BoatHoist trailer be used as a full time trailer?
We do not recommend you use our trailer as a replacement for a full time steel boat trailer. Our trailer, like all other folding trailers, is designed for part-time use to and from the caravan park to the nearest boat ramp.
Does BoatHoist make a trailer to suit inflatable boats?
What sort of warranty comes with the BoatHoist trailer?
Yes, we also have a folding aluminum trailer to suit kayaks. The cross bars are 1.5metres wide and the trailer can carry one or two kayaks. It is also ideal for large Hobbie fishing kayaks and the Hobbie adventure island kayak with outriggers. The kayak trailer comes with 4 kayak supports but the standard Hobbie cradles will also bolt straight onto our cross bars. Please refer to https://www.boathoist.com.au/folding-trailer-kayak-fold-up/