Welcome to the BoatHoist Boat Loading Products' page, where we proudly showcase our innovative range of boat loading solutions designed specifically for a diverse range of cars in Australia. As a company dedicated to perfecting the art of boat loading, we combine cutting-edge technology with robust engineering to provide you with top-notch solutions. Explore our products and experience the future of hassle-free boat loading, right here in Australia.
Explore a world of cartopper experience and innovation with BoatHoist Loading Systems, now based on the Sunshine Coast in Queensland, Australia. Our product range includes our standard electric side boat loader designed to mount onto your heavy-duty roof racks, and the new Heavy Duty SideWinder site boat loader that is compatible with all vehicle roof racks, trade racks, and cargo racks. Dual Cab Utes are not left out either with fitting kits to suit builder racks and aluminium canopies. Our exclusive Flexi-mount system is designed to fit across a fiberglass canopy and the roof of a Dual Cab Ute, absorbing cab-to-canopy movement giving you the extra carrying capacity of a third roof rack.
Additionally, our 'Barra' folding aluminium boat trailer and 'Big Barra' folding boat trailer, both certified under the new RSVA legislation, ensures safe and efficient boat transport from the caravan park to the boat ramp. With no speed or distance restrictions our range of Barra folding trailers offer our customers the best folding boat trailers on the market.
For transporting and handling outboard motors and fuel tanks, we offer options like the Outboard Motor Trolley, A-Frame mount, and the innovative RT Trolley along with our Fuel Tank Rack that safely stores your boat fuel tank up under the boat. Our full range of BoatHoist products are proudly Made in Australia, come with a three year structural warranty and can be delivered to direct to your door in all Australian States. Secure your cartopper boat and equipment with confidence in the strength, reliability, and ease of use that comes from twenty years of industry experience. Visit our products and click their links below for more details on these cutting-edge solutions.
SideWinder Side Boat Loader
The BoatHoist SideWinder Electric Side Boat Loader is a lightweight aluminium  side boat loader that is designed to bolt to your heavy duty roof racks. We have been building our SideWinder side boat loaders in Australia for over eighteen years and they have stood the test of time.
Barra Folding Boat Trailer
The same trusted design that we have been supplying to the Australian market for over fifteen years has now undergone a review by the new RSVA national vehicle certifying body and is fully compliant with the new legislation.
Big Barra Folding Boat Trailer
The best boat side electric boat loader in Australia. One person operation that is safe and easy to use. Fits all caravan tow vehicles.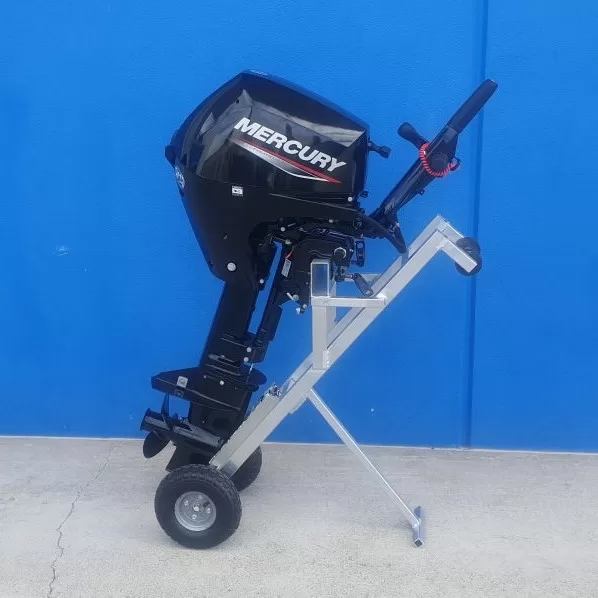 Outboard Motor Trolley
The outboard motor trolley is a robust aluminium trolley that suits both 2 stroke and 4 stroke outboard motors, long or short shaft and up to 20 hp (the trolley can be modified to suit a 30hp motor on request).
Fuel Tank Rack
Designed to seamlessly integrate with our electric SideWinder Boat Loader, the 'Fuel Tank Rack' easily clamps to the gunnel of your boat. With this innovative solution, you can now securely transport your boat fuel tank up under the boat on the roof of your vehicle.
Rooftop "RT" Boat/Outboard Motor Trolley
The RT Trolley is an innovative solution to the problem of carrying an outboard motor with you on your next caravan trip. Designed to clamp to the inside gunnels of your boat the RT Trolley allows you to load the outboard motor into the boat while on the ground and then winch it up onto the roof of your vehicle with the boat.
Have a Question? – Contact Us