BOATHOIST

 

Boat Loading Systems
"Simple Safe & Secure"
BoatHoist Operation Video
SideWinder Boat Loader
The BoatHoist SideWinder Electric Boat Loader is a lightweight aluminium  side boat loader that is designed to bolt to your heavy duty roof racks. We have been building our SideWinder boat loaders in Australia for over eighteen years and they have stood the test of time.
Barra Folding Boat Trailer
The same trusted design that we have been supplying to the Australian market for over fifteen years has now undergone a review by the new RSVA national vehicle certifying body and is fully compliant with the new legislation.
Big Barra Folding Boat Trailer
The best boat side electric boat loader in Australia. One person operation that is safe and easy to use. Fits all caravan tow vehicles.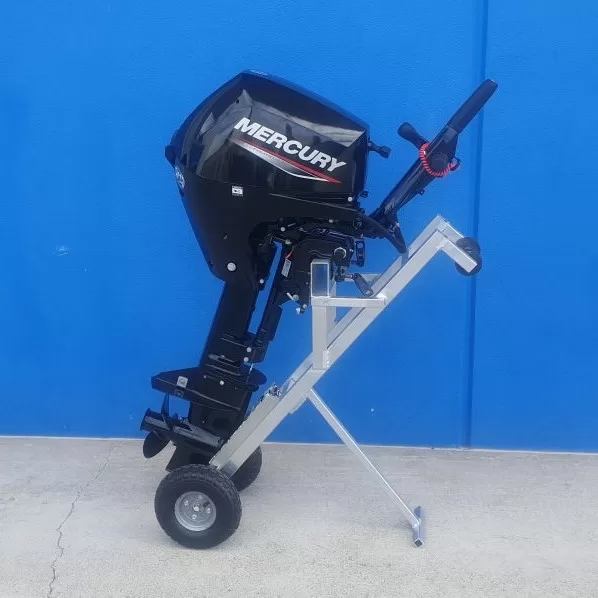 Outboard Motor Trolley
The outboard motor trolley is a robust aluminium trolley that suits both 2 stroke and 4 stroke outboard motors, long or short shaft and up to 20 hp (the trolley can be modified to suit a 30hp motor on request).
Fuel Tank Rack
Designed to seamlessly integrate with our electric SideWinder Boat Loader, the 'Fuel Tank Rack' easily clamps to the gunnel of your boat. With this innovative solution, you can now securely transport your boat fuel tank up under the boat on the roof of your vehicle.
Mission & our unique products
Electric Boat Loader, Folding Boat Trailer, Outboard Motor Carriers
The team at BoatHoist International have spent the last seventeen years manufacturing high-quality aluminium electric boat loaders, kayak loaders and folding boat trailers, along with a range of outboard motor trolleys for the RV caravan market here in Australia. As a result we now have over five thousand loyal caravanning customers crisscrossing Australia each year with BoatHoist side boat loaders bolted to their vehicle roof. Our range of robust aluminium boat loading products have been designed to work in the rugged Australian outdoors and are second to none.
That is why All products come with a 3-year structural guarantee.
We are proudly Australian made and owned, making all our kayak and boat equipment here, hiring local workers, and using materials sourced locally. Australian made is who we are.

Based on the Sunshine Coast in Queensland, BoatHoist has always been a market leader in innovation. Our standard electric side boat loader to suit three heavy duty roof racks has been adapted over time, and the SideWinder boat loader can now be fitted to a range of flat racks, tradie racks and cargo racks.
Dual Cab Utes don't miss out either with fitting kits to suit builders racks on the tub, and several options for mounting your boat loader onto a canopy. The problem of movement between the cab and the canopy of a Dual Cab Ute has been overcome using our unique Flexi-mount system. This exclusive BoatHoist mounting system allows our side boat loader to be fixed to the two roof racks on the canopy, with the Flexi-mount fitted to a third roof rack on the cab of the Ute. This system is perfect for fiberglass canopies as the boat can be set up to finish flush with the back of your Ute while the load is spread over all three roof racks.
Simple, Safe and Secure.
Check out our latest articles!
The innovation doesn't stop there. The team at BoatHoist understand that you don't just need to load your boat onto the vehicle roof.
You also need to handle and store your outboard motor and your boat fuel tank. We have three options for carrying your four-stroke outboard motor. You can mount the motor on our Outboard Motor Trolley and roll it into the back of your vehicle, or this trolley can be combined with our A-Frame mount, and the trolley with motor attached can then be carried on the front A-Frame of your caravan.
If you have enough roof top capacity on your vehicle we have the ultimate outboard motor carrying system, our RT (roof top) Trolley.
The RT Trolley is designed to mount your 2 stroke or 4 stroke outboard motor into the boat while still on the ground, secure the trolley to the gunnel of your boat, then use our BoatHoist electric side boat loader to winch the boat, including your motor, onto the vehicle roof.
The Fuel Tank Rack also clamps to the gunnel of your boat enabling the fuel tank to be stored safely under the boat while traveling.
Of course we also have our standard aluminium folding boat trailer to make getting to and from the water a breeze.
We always focus on three important qualities when designing and manufacturing our products: strength, reliability and ease of use for our customers. The result is a range of cartopper boating equipment made from structural grade aluminium that makes taking a cartopper boat with you on your next caravanning adventure a pleasure.
Simple, Safe and Secure.